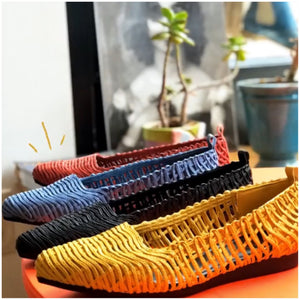 Vegan shoe in an interesting woven non-leather material by ALL BLACK. The woven material is perfect for spring & summer days, when your feet need to breathe. This flat style comes in 4 colors: Blue, Yellow, Red & Black. Add a pop of color or the basic black to your wardrobe!
Runs a whole size big, so please size down. 
Only 4 sizes left in this color! So if you've fallen in love with the red you may not want to wait!