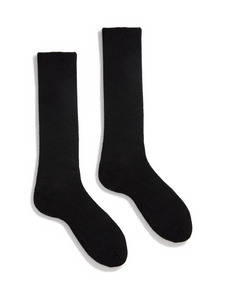 SOLID Wool Cashmere Crew Socks in Black by Lisa B. These black crew cashmere women's socks are simply luxurious. Rich color meets unbelievably soft warmth in understated perfection that is anything but basic. One size. Made in the USA using a fine Italian yarn blend of 37% merino wool, 29% nylon, 24% viscose, 8% cashmere, 2% other fiber.

*fits guys with average size feet 
ABOUT Lisa B
Simple, classic, and timeless -- lisa b. tried and true socks, shoes, slippers, and knits are easy to wear and sure to become your go-to staples you'll reach for again and again.