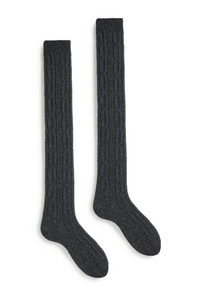 Women's cable knit wool cashmere over-the-knee socks in Charcoal Grey by Lisa B. Made in USA.

Classic cable knit over the knee socks are warm, practical but edgy too. Add these dark grey woolly socks to your wardrobe to help you get through wintry days. Wear under tall boots or with shoes.

One size
Made in the USA
Materials: fine Italian yarn blend of 37% merino wool, 29% nylon, 24% viscose, 8% cashmere, 2% other fiber.